Sunshine after the rain...that's how today feels to me. It's been a most stressful week and I, for one, am glad to be on the other side of the "rain" that this week has thrown me.
Deep thought, though...I guess we all need a little "rain" in our lives to make beautiful things grow.
That's free - I won't even charge you for that!
Thanks for the kind thoughts and words in regards to the death of my friend. I didn't know Melissa that well...I only met her a year ago...but her death - especially the suddenness & unexpectedness of it - has really been tough. My best friend is hurting so much...and that hurts me. Ashley said the other night, "if this is hurting me so much, I can't even imagine what her family is going through". I think, as I said in my Wednesday post, this has just made me realize how precious life is. She was a sweet, fun loving girl and she will be greatly missed.
So...now for the sunshine of my day today...Five Question Friday with
Mama M
! If you want to play along, head over to her blog, copy the questions & link up!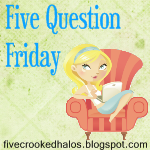 1. Have you ever testified in court? For what?
No - but I almost had to. One day, I was sitting here at work, minding my own business...and I saw this truck come down our driveway and turn around. I didn't think anything about it...but I thought it was odd that he stopped at the top of the driveway, let two kids who were running down the street jump in and took off. I didn't think much more about it...until the sheriff's department showed up with their K-9 unit. And then, one of the officers stopped in to ask if we had seen anything...and I told them what I saw. So, they sent me a summons to appear as a witness. Of course, the trial was scheduled during my vacation. But, as it turned out, someone else had seen the same thing...and they ended up not needing my testimony...so I didn't have to leave my beach vacay to come back and testify.
2. Do you still have your wedding dress?
Well, I haven't bought my wedding dress yet...
But my mom & sister both still have theirs
3. Is there a special place you like to go when you're happy, sad, stressed, etc.?
Not necessarily...I just like to be home...around the people I love when I'm happy or sad...stressed is a whole other story and I usually just want to be alone.
4. If you have kids, do they sleep with you? If you don't have kids...will you let your kids sleep with you when/if you have them?
When Dylan was younger, he would sleep with me from time to time...especially if he was sick. But now, I don't think he would even entertain the thought. One night recently, I was in my room watching TV or reading and he was in the living room watching whatever he wanted to...when his show was over, he came & laid down on my bed with me. That was the first time he's done that in a long time...
5. Do you watch late night TV?
I watch TV late at night...but I don't watch what is considered "late night TV". From time to time, I may stop on David Letterman or Jay Leno, especially if they have someone on that I really like. But, it's not a regular habit.
I hope everyone has a great Friday and a great weekend!