Well, I've made it...this week has been crazy, tiring, but fun. Everything has gone on without a hitch...I did NOT get sick (thanks for the prayers) and I haven't wanted to take anyone's head off! So, all in all, a good week!
Tonight is our last night at our church's "dinner theater" event. It's been great so far and we've seen a lot of visitors. Tomorrow I will actually begin my own personal Christmas celebration by actually putting up the Christmas tree! :) Can't wait!!!!
With everything going on this week, I haven't had a lot of time to write or read...and I really don't today either...so as is my own blog tradition, I'm participating in Five Question Friday, brought to you by
Mama M
. If you'd like to participate, just head on over, copy the questions & link up! :)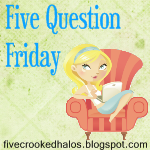 1. Do you open presents on Christmas Eve or Christmas Day?
Christmas Day...when we were little we would beg and beg and beg to open gifts on Christmas Eve, but my parents never allowed it. One year, when Dylan was very young (like 2), we had planned to fly to Florida to visit Dad's family for Christmas and so we did Christmas Eve with my family. It felt so wrong. So, now we don't do gifts until Christmas Day. And in actuality over the past few years, we've sometimes moved our family Christmas celebration until the 26th, due to my BIL's work schedule...which is SO HARD TO WAIT! :) But this year, he's off Christmas Day...so we don't have to wait this year!
2. What is your favorite Christmas cookie (or candy)?
I love chocolate covered cherries...and over the past few years, I've been making peanut butter balls...which are just awesome!
3. What's the worst Christmas gift you've ever received?
I'm not really sure...I know the Christmas gift that I DIDN'T receive...one year, all I asked for was a watch...guess what I didn't get. Yeah, a watch. I was not happy...that wasn't a particularly happy Christmas anyway...
4. Christmas song that you love?
Well, I love almost all Christmas songs...but I'm very partial to the traditional Christmas hymns...O Holy Night, Joy to the World, Silent Night...I love church during Christmas.
5. How many trees do you put up?
Just one...I don't have a ton of room in my house...I barely have room for the one! :) But maybe one day, when I have a bigger house, I'll put up more!
I hope you have a happy Friday! See ya around! :)