Well, look-y here! I did free up some time for another post in my 9 day interment! :) Ok, well, I'm doing this Thursday night at 10:45...giving up valuable snuggling under my covers time. No problem...I'll still get that in! :)
And here we go with Five Question Friday, hosted by
Mama M
. If you'd like to play along, you can visit her, copy & answer the questions and link on up!
So...here goes! :)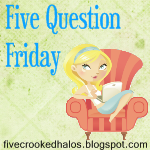 1. What's on the top of your holiday wish list and why?!
Well...dreaming big...I'd love to have a Kitchen Aid Mixer. A couple of years ago, I asked for a Kitchen Aid because my mom & sister each have one and it is awesome. However, my mom wanted to make the most of my "Christmas money" and bought me a Sunbeam mixer instead. I am not and was not ungrateful for this...she had a Sunbeam for years and years and years and only moved over to the Kitchen Aid because she got a KILLER Black Friday deal on it. Well...I guess Sunbeam just doesn't make them like they used to...because, while my mixer works, it doesn't work well. Sometimes it acts like it's stuck, but I'm mixing a box cake mix and it shouldn't be getting hung.
But realisitically, I'm keeping my fingers crossed for a pair of Ugg knock offs from Target! :) Because I want my "Christmas money" to go farther this year!
Oh yeah...and the
rainboots from yesterday's post
...
:)
2. What is your favorite Christmas gift from the past?
Honestly, I'm not sure. I've gotten lots of great stuff as Christmas gifts over the years. Of course, I've loved all the handmade stuff that Dylan has made me...well, most of it...but don't tell him. There was a somewhat devilish cup/glass/vase that he made in art class a year or two ago that he decided to "gift" me.
But, quite honestly it's hard to just pick one favorite gift!
3. If you had life to do over, what would you be when you grow up?
This is another tough question! I like my job now...the only other job I could see my self doing would be working with children, either as a teacher or something in that field. In fact, I got the Elementary Ed degree anyway and don't use it! HAHA!
Maybe I would be a ballerina after all...
or maybe not...
4. When do you put up your tree?
Usually the first weekend in December...however, this year, with all the stuff I have crammed into this weekend, I'm putting it off until next weekend. I'm actually looking forward to it because I
think
I'll have time to enjoy it!
5. What is your favorite Holiday?
Well, I do love Christmas. I love what the season is about. I love celebrating Jesus' birth. I love all the decorations - inside & out. I love the family time, although in our family we have a lot of family time throughout the year. I love the cheer. I love the music. I love going to church during this time. I love the giving...and the receiving.
But, on the other hand, it's also a time when I feel overextended. I feel overly stressed. I don't feel like I have the time to truly enjoy the
entire
season. And when it's all over, we head into the bleakest few months...January and February. To me, it's kind of the let down after such a big, fun, exciting time.
So, while I love Christmas and all that it's about, probably my favorite Holiday is the 4th of July. I think because it's a celebration, but it's so much more relaxed for me. And coming down from the excitement of this holiday isn't like falling flat on my face.
Hope you have a Happy Friday, weekend...and if I don't see you, a great week! :)