First things first...time for Five Question Friday...brought to you by Mama M. Head on over...answer the questions and link up!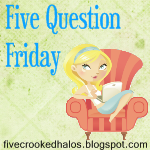 1. What is the first nightmare you remember?
I always loved
The Wizard of Oz
...the flying monkeys are a bit much...but I loved Dorothy...and the scarecrow...and the tin man...and the cowardly lion...I used to love waiting through the black & white part so she could go to Oz with all the beautiful Technicolor. And the witch didn't scare me, much. Except in my dreams. I remember dreaming, often, about the witch coming to get me and taking me away. Truly, that's the only nightmare I remember from my childhood.
2. Even if you're not a sports fan, what's your favorite sport to play/watch?
Ironically enough, I posted about this just
yesterday
! I'm not really a sports fan, per se. But I think I can be a fan of anything if it includes being outdoors and getting to have concession stand food!
3. If you could pull off one piece of trendy fashion, what would you want it to be (jeggings, hats, thigh high boots, etc.)?
I would like to just offer one piece of fashion advice here..."just say no" to jeggings. Maybe I'm missing the appeal, but I can't see that they would be that comfy OR that many people would be able to pull them off. Aren't they just skinny jeans?
Ok...now that I'm off my soap box about jeggings, I would love to be a hat person. I would love to feel like it's appropriate to wear hats anywhere and everywhere. I'm not just talking about ball caps...I would like to wear big, floppy hats and fancy, schmancy hats...Julia Roberts' hats in
Pretty Woman
. But where on earth would I ever wear a hat like that??? Certainly not to work...at church I'm in with the kids...I don't go to any events that would allow me to wear hats. So...not only do I want to wear hats often...I want to go to events that warrant a hat to be worn! :)
4. Did you make good grades in school?
Yes...I probably actually could've done better...but I just didn't care. And I still made good grades. Except in 5th grade when I made a D...I think it was the only one I ever made...and in 7th grade because I was just a little punkish. Thankfully, I grew out of that phase quickly!
5. What magazines do you subscribe to?
Currently, just
Family Fun
and
Martha Stewart
...but I never have time to read them...and I have all of my old issues collecting dust (yes, I'm a pack rat)...so I think I'm going to let them run out. Plus, with the internet, you can get all the good info online.
*************************************
And now...what I've been waiting for...a return to Feel Good Friday, with
The Girl Next Door Grows Up
!
I know that doing these memes is my own choice. I know that I don't
owe
'The Girl' anything and she's not requiring me to do Feel Good Friday.
But, deep down inside...I just really feel like I
need
to do Feel Good Friday. I think it helps me to keep my perspective in the right place.
However, I just haven't been feeling it. Whether because work has been so crazy...or life has been so crazy...or I just can't seem to get it together, I just have been in such a blah funk, that I couldn't participate.
And really, how hard does she make it??? Not at all. One of the prompts is to make a list of 5 things that made you feel good...another is to write about something you did or something someone did for you...but, for the past few weeks, I just couldn't muster up 5 things that made me feel good.
And that made me sad.
But, I'm back...because in the midst of my crazy life, I got a break last weekend. And quite honestly, I think it was exactly what I needed. A weekend with nothing planned other than being at the beach...a couple of days sitting by the beach feeling a good ocean breeze...talking about everything with my bestie, except the things that make us heartbroken...laughing, alot...reading, alot...not sleeping alot, because our beds were so horrible...but even the horrible beds were OK, because we were away and we had fun and we needed a break from life.
And it made coming back bearable.
And I'm glad to be able to say that I. Feel. Good. Again.
And, that's why today is a Feel Good Friday. :)
I can't promise to always feel good...but I will always do my best...and every once in a while, I'll take a break...because we all need that as much as we need to do the things we do.
Thank you to Erika who gives us a chance to reflect on what makes us feel good...and thanks to a God who was gracious enough to work out the details and provide this much needed break.
Have a great weekend! :)