I've been rolling this post around in my head for the past half hour...and then I logged onto blogger and realized it was Pour Your Heart Out day. And boy, do I need to pour my heart out!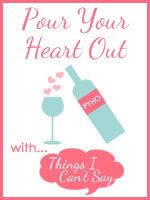 There are days, like today, that I just want to be married. The pull is so strong that I don't even quite understand it. I just want this season to move on. Sometimes, I look around me...and it seems like everyone's lives are moving and changing...and then mine just seems to plod along...same pace...same old same old. And I don't like it. In fact, I hate it. The feeling wears on me...and wears me down...until I find myself fighting back tears.
The funny thing is...I'm not what you would call a sympathetic person. I don't coddle people. I don't tell you your hair looks nice because I know you just got it cut and I want to feed your ego a bit. I'm one of those people who tells others - if you don't like your situation, do something about it. Don't like your career? Find a new one. Don't like your hairstyle? Find a new one.
I can preach it like nobody's business...but do I take my own advice.
no
And why not?
fear
Fear has held me back for so long. I know it has a grip on me...I know it as plain as I know that my hair and my eyes are brown. Some of my fears are valid...
I fear that I'm moving out of God's will for my life. This one's a biggy. I've always prayed and hoped and wanted to feel like when God was ready for me to meet 'that guy', He would put him in my life. Which leads me to my next fear...
What if I'm NOT following God's will? What if I'm supposed to be doing more to make this happen?
And then there's the fear that I will meet a great guy, get caught up in it all...only to find myself hurt in the end and back to square one. And that I will bring Dylan along on this ride leading to hurt...
There's always that fear that I will NEVER meet 'that guy'...
And the fear that if I put myself 'out there', that I will meet a creep.
The almost desperation in my life tends to do battle with the fear from time to time...and I think, what about online match ups? I've read about a lot of people who met their mate on line...I have a good friend who did...but that brings in a whole other fear...but relating back to the "creep" fear.
So, what am I waiting for?
For the fear to dissipate...
For the desperation to take hold...or maybe not...
For God to move in this area of my life...or to tell me where to go...
And as always...I'm just waiting for the guy...the one that completes me...the one that is the "cheese to my macaroni"*...
*quote is from Juno