I apologize...I will not be participating in Feel Good Friday today. I know y'all are disappointed...I'm disappointed in myself...because I think I
need
to focus on the good in the past week...but I just can't today. Don't worry...I'll get there! :)
It's just been such a week for me...work has been stressful...my emotional life has been stressful...well, that's enough for me.
But on the brightside, it's Friday...and I don't
have
to work on Monday...but I am because I have some major deadlines next week and I'm going to be out on Friday. I can almost smell the ocean air...I'll be heading out Thursday evening...and it just can't get here soon enough!
I would like to just say a HUGE thank you to those of you who read my Pour Your Heart Out
post
and gave me such great words of wisdom and encouragement. I didn't hear anything new...but, you just need to be reminded from time to time. I don't think I'm quite past it all enough this week...but each day gets easier...and then it will be fine until my next meltdown. Thanks for riding this roller coaster of emotions that I seem to be here lately! :)
Anyway...time for Five Question Friday brought to you by Mama M!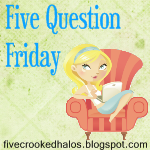 1. What do you do when you have time to yourself?
I usually read or watch TV or play on the computer...pretty much what I do all the time!
2. When you look out your kitchen window, what do you see?
Trees...the neighbors houses on both sides...and a 500 gallon propane tank...yeah, I'm not sure who thought
that
was a good idea!
3. Who/What would you want to be reincarnated as?
I don't know...maybe a butterfly?
4. What is your biggest pet peeve about other people's kids?
Rudeness...running around wild while their parents do nothing about it...evident lack of discipline
5. Regular or Diet soda?
Always regular...I think that artificial sweetners have to be bad for...give me the real stuff! :)
~~~~~~~~~~~~~~~~~~~~~~~~~~~~~~~~~~~~~~~~~~~~~~~~~~~~~~~~
Hey - do y'all read
Salt Says
? If you don't, you totally should...because she's super awesome! And she's celebrating her 1 year blogoversary...which is pretty amazing...she writes like she's been here for years!
And to boot, she's got a *sweet* giveaway going on in honor of her big day! How cool is that...she celebrates a birthday...one of us gets the gift!
So, if you haven't checked her out, please do! I promise you won't be disappointed!
Happy Friday...and Happy Labor Day weekend! :)