Well, I've been away from Five Question Friday for a while...and I'm excited to be back at it! :) So...if you want to play along, click on the Five Question Friday pic below and you can link up with Mama M!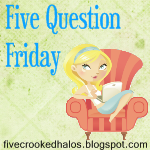 1. If you could have any talent and turn it into an occupation, what would it be?
Well, I love music and singing...but there are plenty of singers/musicians out there.
A talent I have (I guess you'd call it a talent) is the ability to write in mirror writing...I can write entire sentences so you can read them in the mirror. Now THAT would be a talent that I wish I could turn into an occupation!
2. Would you rather have a house at the beach or a cabin in the woods?
Beach...every day of the week. I want to visit a cabin in the woods...and only here & there. I would LIVE at the beach!
3. Is there any meaning or reasoning for the names you chose for your child/children?
Dylan is a family name - actually
Dillon
is my grandmother's maiden name. I liked the spelling I chose better.
Also, if I have any other children they will have "Y's" in their name - if you notice Alyson & Ayden both have "Y's" - it's gonna be our "thing"!
4. What is your guilty pleasure? (I know we've done this one before, but I'm guessing people's "guilty pleasures" change frequently. At least, mine do!)
Hmmm...TV...most definitely - I watch way too much...but I just can't stop!
Also Starbucks...and right now is the best time of the year for Starbucks - Pumpkin Spice Latte, Peppermint Mocha, Gingerbread Latte...YUM
5. Do you live in a house that is deep cleaned or straightened?
Mostly straightened...deep cleaned from time to time...but most often just straightened!
Hope you have a happy Friday!