Today is gonna be a beautiful Friday here in NC. Forecasted temps of 73 = breaking out the flip flops! :) I know this is short lived and we will probably get snow next week...but I'm going to enjoy this beautiful weather while it lasts!
*BTW for my other NC blog friends...I haven't heard of snow in the forecast next week...it's just how the NC weather rolls...you know what I'm talking about! ;)
So, it's time for another edition of Five Question Friday, brought to you by
Mama M
! :) Head on over, grab the questions & link up! You know you want to!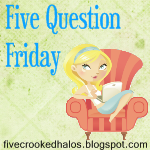 1. Have you worn the same outfit more than one day in a row?
I honestly can't remember a time when I've worn the same outfit more than one day in a row. Except maybe a work uniform, but I don't think that counts. Even when I'm sick, I must change clothes...no matter how bad I feel. Fresh clothes make you feel just a little bit better.
2. If you had to choose any LARGE city to live in, which would it be?
I can't say that I would ever want to live in a LARGE city. Let's face it people...I can't go to Wal-Mart on a Saturday after 9am...I don't think being herded through city streets would work for me.
Actually, now that I think about it...Orlando is not so bad. It's a pretty large city but it doesn't
feel
as large as it is. I'm sure there are the sketchy parts...but Dylan's grandparents live just minutes from downtown and, other than the skyline, you wouldn't really know you were that close. So, I guess I could choose Orlando.
3. Fly or drive with the kids on vacation?
Either is fine by me. Dylan started flying when he was about 10 months old. I don't really like to be in a car more than about 4 or 5 hours myself...so flying works for me. But I don't remember any negative car trips with Dylan. We drove to Orlando once when he was about 3...Dylan wasn't a problem...but a sleep deprived driver was scary...
4. What is your idea of "spring cleaning"?
I don't really do much "spring cleaning"...I guess for me that would just be going through the junk I've accumulated over the past year...cleaning my car...cleaning the outside of my house, which desperately needs to be powerwashed.
5. What is the best book you have ever read?
hmmm...that's tough for me. I'm such an avid reader and read a lot of books that it's hard for me to chose just one. I really enjoyed
The Shack...
I loved the portrayal of God in this book. At Christmas, I read
The Christmas Box
by Richard Paul Evans...which was such a great reminder of what Christmas is really all about. That one impacted me greatly.
Hope you have a Happy Friday...and hope that it's as lovely a day for you as it will be for me, wherever you are! :)