Well, it's finally Friday! :)
OK...confession...it's actually Thursday and I'm doing this tonight because I have the time...
;)
Anyway, it's time for Five Question Friday with
Mama M
. If you'd like to play along, head on over to her blog and link up!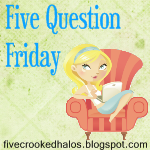 1. Can you drive a stick shift?
Oh...this is a funny story.
I wanted to be able to drive a stick shift so bad when I finally started driving...but both of my parents' cars were automatic. However, my BFF's dad had an old, old, old Volkswagen Rabbit that was a stick shift and I was determined to learn how to drive this car. So, one day, we all pile in the Rabbit and I get a crash course in driving a stick shift. However, I think that Ash's dad couldn't actually stop laughing long enough to truly teach me! I would get going and then stall out by slamming on the brakes. The whole clutch, brake, gas, shift combo threw me. Oh...fun times!
Then, on my first date with Dylan's dad, we had some time to kill between dinner & our movie...so he decided it was a good time for me to learn...on his Mustang...in the mountains. Yeah, that went real well.
Finally, my friend Tori in college taught me how to drive her Probe. And I drove it well.
Guess I had to find the right teacher! ;)
2. What are two foods you just can't eat
?
There's very little that I just can't eat...often even the foods I detest I can eat if they are mixed into other foods.
But quite honestly, I HATE pintos & mushrooms. Mushrooms give me the heebie jeebies.
3. Do you buy Girl Scout Cookies? What is your favorite kind?
I have not been
accosted
approached by any Girl Scouts so far this year...but usually, I will buy some cookies. My all time favorites are Thin Mints...although I do like the coconut ones (can't remember their "new" name). And last year I discovered the Lemonade cookies...which sadly didn't come back this year. They were delish...and didn't last too long in my house last year!
4. How do you pamper yourself?
I love getting pedicures. I also love getting massages.
Sadly I don't often have time or the cash for either.
But when I do...I enjoy them to the fullest! :)
5. What is your nickname and how did you get it?
My current "nickname" is Jenn. And I pretty much gave it to myself. I've always been one of about five Jennifer's wherever I was in school. I'm not sure when I made the transition to Jenn...and not everyone calls me that. It's usually Jennifer or Jenn.
And it's suggested to NOT call me "Jenny". There's only one person who calls me that that actually gets away with it...in fact, I don't even notice it anymore!
I hope you have a great Friday and an awesome weekend!