After the longest Vacation Bible School week in the history of Vacation Bible School...I'm so thankful it's Friday! Tomorrow I plan to sleep in...go to the pool with my friends...plant some flowers...and that's about all. I'm hoping to ignore the fact that I desperately need to go to the grocery store so as not to ruin my day...but Dylan tends to get hungry, so I might have to give in! :P
Anyway, I don't have time for a super long post (I know you guys are thankful after the novels I've written lately), so I'll just get right to Five Question Friday with
Mama M
! If you'd like to play along, head over to her site, copy the questions & link on up! :)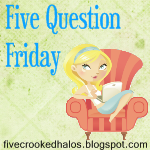 1. What is your current favorite tv show?
Well...I have quite a few. I just recently stumbled onto the genius of
Psych
...
And then there's always
Parenthood...
And for my guilty pleasure???
Jersey Shore
.
Such a wide variety there...
2. What's the worst haircut you ever got?
Sorry Mom...but my worst haircut was actually a series of haircuts...and they all looked the same. Very mullet-y.
And I have to say sorry to Mom because she cut my hair way back then...
I'm on the right...
*sigh*
3. What was something that you did as a child that you thought you were so cool for doing?
When I was 9, my family flew to California. Back then (in 1985), people didn't just hop a plane to Los Angeles. We actually few from Greensboro, stopped in Charlotte (but didn't get off the plane) and then went on to Los Angeles. We went to Disneyland, Knotts Berry Farm, the beach (COLD) and visited with my Great-Aunt Uncle.
Yep...I was definitely cool...I'd been to the West Coast!
;)
4. Do you have any GREAT frugal family fun tips?
Not really...but I'd love to read some of your tips!
5. Would you drive across country if you had the money to fly?
No.
6 hours is about my limit in a car
And I'm too impatient to drive when I know I can get to my destination in 7 hours rather than 14 days.
I'd like to see everything between NC & California...but I don't think I could spend days in a car...
Maybe I underestimate myself...
But probably not! :)
Happy Friday...Hope you have a GREAT weekend!