First of all...
Thank you!
Thanks for reading my
200th post
and for your kind comments.
I honestly was so excited about sharing that here and you guys totally delivered!
Don't expect too many more of those "original works"...I'm kind of a "one-hit-wonder".
:)
Anyway, I'm so glad to be back with Five Question Friday this week! Seems like it's been forever! :) My Friday's have been busy over the past few weeks...so it's nice to have a return to somewhat normal!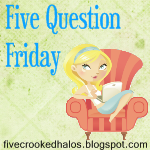 1. If you could buy any car, money not an option, what would it be?
Well, to be quite honest, I've had Mustang fever for as long as I can remember.
In fact, I almost went and looked at them when I was shopping for my current (more responsible, practical) car.
However, I knew that if I looked, I would buy.
My sister has had the Jeep Wrangler fever...and she may have also rubbed that off on me a little too.
I can tell you...I do not want a mini van - EVER. I'm not knocking them...I'm sure they are great and wonderful and you can put lots of kids & junk in them...yadda yadda yadda. But I seriously would prefer to have a Tahoe, Suburban, Armada, Sequoia, Acadia...anything but a mini van.
And, yes, I do understand that most of these vehicles have horrible gas mileage...not as good as a mini van.
But remember, money is no object!!! ;)
2. What was your worst first date ever?
A lady at church wanted to set me up with a guy she knew. He was very nice. I met him a few times and then he asked me to go to dinner with him.
He had a '68 Corvette...nice car...nice, LOUD, car. By the time I got to the restuarant, I had a headache.
And then the conversation was horrid...as in I would ask him a question and he answered with a one word answer.
So awkward.
And he said something about his pastor's "old lady".
That did it for me.
3. How old were you when you fell in love for the first time?
Honestly, don't think I've ever been there yet...
4. When was the last time you reconciled your checkbook?
It's been too long. I know approximately how much I have in the account...but haven't done the actual math.
Must do that today...it's probably not going to be good...
*sigh*
5. If you were going to fashion a "Wanted" Ad for a best friend, how would you word it?
Well, I already have the awesome-est best friend.
Seriously, we've been friends since we were about 13 & 14ish...so it's hard to think of needing another best friend!
But, if I suddenly needed one...this might be what it would say:
Single mother of one with a slightly twisted sense of humor seeks best friend who will allow her to be somewhat shallow from time to time, laugh with her when she does somewhat "stupid" things, be willing to talk her down when she gets too stressed, and allow her to cry when no one's looking! Must be willing to people watch and comment mercilessly on people whose style is not up to par to our own. Because, no matter what anyone else thinks, we are the most stylish people we know.
OK - that was entirely too complicated to write...mostly because I was basing it on my current BFF! :) Sometimes it's hard to put our friendship into words!
Hope you have a simply wonderful Friday.
And for those of you catching the royal wedding today...
Cheerio! :)