Don't worry...I'll be posting my Feel Good Friday in a bit...but for your reading pleasure...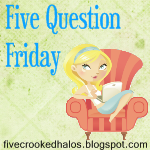 1. Do you have any nicknames and if so how did it come about?
Jenn...it's the one I chose when I was in college...I was called Jenny when I was younger...and Jenny B. But, now...it's Jenn
2. What is your birth order amongst your siblings?
I am the eldest, least favored child! HAHA! We have a joke in my family that my sis is the "favored one"...
3. In a movie of your life, who would play your significant other?
That role has yet to be cast...
4. What is currently your favorite song?
I love this song...the message is just THERE!
5. Are you saving your money for anything right now? Big or small purchase?
I wish I was a better saver...but I'm not...
Hope your Friday is a good one!!!