Can I just tell you how thankful I am that it's Friday? And moreover I'm thankful that I don't have to be anywhere tomorrow at any certain time so I can SLEEP IN! Of course, that means I'll be up bright and early...but I'm going to try my hardest to at least lay in bed for a while...even if I do wake up early!
I know I've been quite depressing...the NC weather has been depressing this week...I sometimes wonder if I have seasonal affective disorder...and I'm not even being funny about that. The dreary weather kills me...I need more sunshine than gray clouds. Thankfully, the sun finally came out yesterday...and it's back today...and promises to be here all weekend! Plus it's going to warm up...is it sad that I'm excited about seeing the 50 degree mark?
Plus...I'm super excited about Sunday. Finally, it looks like Dylan & I will be able to have our pics done! I'm super stoked. Leah (our photographer) did a session with my sister's family last weekend...OH. MY. GOODNESS. I'm in love...
See why I'm so excited???? Leah is amazing!
And if sunshine and warmer temps are not enough to make my moods lift, I'm hoping to write a post for Monday that will surely make you smile. A more hopeful post...we shall see what happens over the weekend! :)
And now...I love
Mama M's
5 Question Friday...always the best questions. I know this has to be hard work pulling this all together, but I appreciate her dedication to this meme!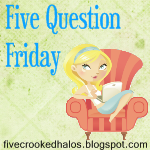 1. If you had $1,000 to donate to a charity, which would you choose?
That'd be really tough...there are so many great charities to choose from. Ronald McDonald, Susan G Komen, our local pregnancy crisis center...it'd be really tough to choose. Most likely if I had that opportunity, it would take me a bit to make a decision.
2. Snow days: Do you welcome them happily or are they a pain in your butt?
I *heart* snow days...I did as a child...I do now as an adult. Just a day, most often unplanned, to be at home in warm PJ's with maybe a quick trip out in the snow...awesomeness...love them.
Having to go back to work once the roads are clear and the snow is still on the ground is a pain in the butt though...
And our kids losing out on days "off" is kind of sad...
3. What talent did you wish you had and why?
Well, forever and always, I wish I knew how to play the piano. I'm hoping one day to have the time and money to put towards this dream...we shall see...
4. Are you a news, politics or celebrity gossip junkie?
I don't watch the news...it's depressing...
I don't get into politics...I don't even want to go there...
Celebrity gossip...that'd be my choice of the three...although I would call myself a "junkie" per se. Although, one of the main reasons I love going to get my hair cut is that I have the opportunity to catch up on reading People Magazine. I love People...
5. What is your favorite "cocktail"? (Are you a beer person, a kiddie cocktail junkie, or perhaps your more the "Cosmo" kind?! Anything flies...doesn't hafta be alcoholic!)
Well, I'm not a drinker. So, I don't have a favorite...but I have had some Cheerwine punch that was fabulous.
And for those wondering what "Cheerwine" is...check out their
website
. You can't find it everywhere. But I'm blessed to live in a state that does sell it! :)
Have a great weekend!