I hope you enjoyed my
late night post
from VERY early this morning. I can't say that my late night didn't have its effect on me...dragging myself out of bed was difficult...but I made it all better with a Grande Non-Fat White Chocolate Mocha from Starbucks...and yes, I DO want the whip on that. I trade my fats out.
Anyway, I love Fridays because it's the end of the work week...tonight I'm going to a friends for a Mary Kay facial (I'm super excited since I've never had a facial before!)...and I have next to nothing planned for the weekend. Oh, wait...I have nothing planned for the weekend! I probably should at some point clean my house...specifically the kitchen & bathroom floors...but we shall see. I promise nothing.
I also love Fridays because of Five Question Friday, brought to you my
Mama M
! It's easy...simple...and I don't have to think too much. So, if you want to play along, go on over, grab the questions & link up!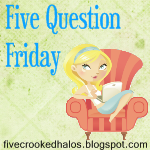 1. Where did you meet your spouse and did you instantly know it was love?
Well, I'm out on this one...maybe, hopefully, one day I can share this story with you...but since it hasn't happend yet, you'll have to wait to hear it. I mean, I've been waiting a looooonnnnnggggg time...so the little bit of time you possibly have to wait isn't that much.
Hopefully.
Fingers crossed...prayers lifted!
2. What is your favorite room in your house?
No question - my bedroom. My bed is comfy & cozy. The color is sage green. It's all mine.
I thought I had a pic on my work computer or phone...but it's a no-go.
3. Can you wiggle your ears?
Sort of...
I had to try it out...
4. What is your evening ritual?
Well, usually I get home, fix dinner, clean up (or make Dylan clean up), do laundry if need be, watch a lot of TV, go to bed, read and/or watch
Gilmore Girls
until I fall asleep.
Obviously my evening ritual did not work last night...
5. How many hours of sleep do you need to function?
I prefer at least 6. That's my goal each night. Usually I get close to 7, which is even better. I can tell you that 4 or 5 is not enough...
Well, today should be a pretty hum drum day...just like the rest of my week has been. Both of my bosses are out today, which means that the office is quiet. Hmm...lack of sleep...quiet office...do not disturb! :)
Hope you have a happy Friday & a great weekend!