Shew...what a week. Monday was crazy because I was working with the thought that I most likely wouldn't be at work on Tuesday...which I didn't...which meant that Wednesday was crazy...and then there was Thursday.
Needless to say, I'm SO ready for Friday. Plus we have a busy weekend - our picture make up day is tomorrow, as well as Aly's birthday party! :)
Anyway, it's time for Five Question Friday with
Mama M
. If you'd like to participate, go on over, grab the questions and link up!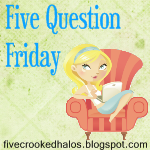 1. What movie could you watch over and over again and not get tired of?
There are so many to be able to pick just one...of course the classics -
Sound of Music
,
Wizard of Oz, Mary Poppins
. Pretty much any John Hughes movies -
Sixteen Candles, Breakfast Club, Ferris Bueller, Pretty in Pink
. Then there's
Breakfast at Tiffany's
...yeah, I watch that everytime it's on TV! I love movies...and could watch many of them over and over and over.
2. What's your biggest pet peeve right now?
Well, there's nothing that's bugging me more right now than at any other time. Always and forever, I hate things that beep or rattle incessantly.
3. If you had to describe your best friend in five words or less, what would you say?
funny
tenderhearted
silly
loving
loyal
4. If you did not have to worry about money or go to school what would you do for a living?
Probably teach...although, my ultimate job would to be just be a mom...without an "outside" job.
5. What is your one "splurge" item, that you will always buy, no matter the cost?
Salon shampoo...I've said it before and I'll probably say it again...buying salon shampoo really does make a difference. My personal fav is Clear Moisture by Redken.
Hope you have a great Friday & a fabulous weekend! :)