How 'bout a little Friendly Friday Follow...
And a little Friday Follow...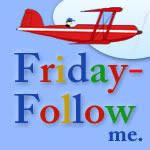 I haven't been participating in the Friday Follow here lately because
I'm slow and couldn't figure out the deal with the spots
I've been really busy with vacation and stuff and haven't had time to read a lot of extra blogs! But, here we are at a Holiday weekend and I thought, hey...maybe I'll try again! :)
And what about a Feel Good Friday???
Last Friday, when I was blogging beachside, I didn't think I'd be feeling too good by this Friday. Usually it's a long week after a week long vacation, but this really has been a good week! Probably helped that Dylan's birthday was right smack in the middle of the week...although being away for a week meant that I had to do all of my birthday shopping quickly...because you will quickly find out that I am not a good planner-ahead-er. I procrastinate horribly...which caused a great deal of stress for my parents when I was going through school...and many late nights working on projects that were due the next day. Unfortunately, I think I passed this on to my son...
Anyway, it has been a good week! We began the 14th birthday celebration on Wednesday night with the family...we ate at Fire Mountain (like Golden Corral, if you aren't familiar with Fire Mountain) which I personally think is
way over priced for not that great food
ok, but Dylan loves Fire Mountain. And it was his day...so, we ate there. Then headed back to my house for gifts and cookie cake. I baked and decorated myself...didn't turn out too bad, huh?
By the way...those are supposed to be fireworks...just in case you can't figure it out. Dylan really loves the fact that his bday is so close to the 4th and usually picks red/white/blue for his cookie! AND please don't be too impressed with my cookie cake making abilities...because that is a small package of Pillsbury cookie dough rolled out into one big cookie and decorated with store bought tubed icing. I
can
make cake and really good icing like my
mom
, but this is what he asks for...and it
is
his day!
Then we celebrated AGAIN on his real birthday, which was yesterday. He was asleep when I left for work...so I left these notes for him...
I had stuck these in different places...the first on his night stand...the second on his door frame...the third on the TV and the fourth on the bathroom mirror! (I have to say that I think it's incredibly cool that he gathered them and put them together to keep...I figured they'd end up in the trash can!) Then I came home from work early...took him to GameStop so he could spend some of his gift cards...patiently waited for him to look around (well, I tried at least)...took him to Target for a pretzel, which are his fav, and then went to pick up his friend Seth for some Go-Karting! We went to a place in Pilot Mountain -
Mayberry Shazaam
- which was a REALLY good track. And they were the only ones there...so I think they had a great time!
After that we drove about 10 miles up the road to Mt. Airy (the town that fictional Mayberry from
The Andy Griffith Show
is based on) to go eat at
Goobers 52
! We love this restaurant...they actually put one in Winston-Salem, but I think Dad said it didn't last (wasn't in a good place to do well, I don't think). We had fried pickles...which if you've never had them...you MUST. The boys had wings, I had a burger and then we went back home! All in all, I think it was a good day for Dylan!
Now, we are starting on a holiday weekend...I love the 4th! Dylan has gone to the lake with Seth for a weekend of tent camping & fishing and I'm staying with my BFF tonight so we can get up extra early and hit the East Bend God & County Parade. This parade is absolutely the best. East Bend is about as "small town" as you can get...fire trucks/EMT/police/sheriff from all over the county will be displayed...not to mention about a thousand John Deere tractors! And they throw CANDY galore! We are taking her Godchildren - J&J - I'm just hoping they are in good spirits because it will be no fun if they aren't.
So...this has been a good week and today does "feel good". Happy 4th of July!!!